See on Scoop.it – Congo Square Preservation Society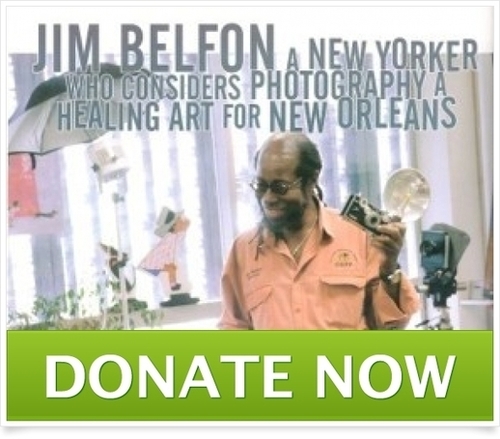 Jim Belfon, a passionate photographer and tireless mentor to youth, is extremely ill with late stage prostate cancer and is in Hospice care. Sadly, his last days are fraught with anxiety.
The Divine Prince 's insight:
Jim moved to New Orleans eight years ago and established the Gulf South Photography Project, a full-service photographic learning environment, teaching free photography workshops to more than 1200 youth and senior citizens. He has combined teaching photography to local area youth with helping families deal with the loss of family photographs due to Hurricanes Katrina and Rita's massive destruction by providing more than 14,000 individual and family portraits. In the New Orleans metropolitan area, some of the places he has taught classes and workshops include the Ashe Cultural Arts Center, Pontchartrain Park Senior Citizen Center, Harry Thompson Center, Tulane Cancer Center, Treme Center, and the Zion Travelers Cooperative Center in Plaquemines Parish.
His roots, however, are in New York City. Originally from Harlem, he studied and worked with distinguished photographers and designers including, James Van Der Zee, Gordon Parks and Richard Avedon. His work has been published in a variety of national and local magazines and newspapers including, Time Magazine, Essence, Sports Illustrated, Architectural Digest, Harper's Bazaar, The New York Times, The Times-Picayune, The New Orleans Tribune, The Baton Rouge Advocate and others.
Jim began his commitment to sharing his photography teaching skills twenty five years ago in Harlem, NY. Inspired by his son Jimmy Belfon Jr's interest in photography at the age of four, he established the Photographic Center of Harlem. He taught photography to children and senior citizens in NYC at Harlem School Of The Arts, Central Park East School, St. James Senior Citizen Center, and New Song Community Church. Over its history, PCH served more than 5,000 children and senior citizens in the Greater New York City area, introducing them to the joys of the photographic arts and encouraging their roles as visual historians of their communities. PCH students participated in more than 60 major exhibitions in museums, galleries, and other public and community spaces, with more than 100 participants establishing careers for themselves within the communications industry. On Saturday, November 2, 2013, some of Jim's friends and colleagues will host a tribute to honor Jim. A reception and fundraiser will be held at Christian Unity Baptist Church, 1700 Conti Street, New Orleans, Louisiana from 5-7 PM. New York and New Orleans are indebted to Jim for his service and we hope that his extended family will help in his time of great need.
On behalf of the Jim Belfon support team in New York and New Orleans, we thank you in advance for your generosity. Please make checks/money orders out to:
Christian Unity Baptist Church Mission Fund (memo: Jim Belfon Fund) 1700 Conti Street New Orleans, LA 70112
For more information, feel free to contact any of the following persons:
Ted Quant- 504-474-0009
Linetta Gilbert- 504-881-4630
Debra James- 917-975-9591
Lisa Kaichen- 985-789-0268
Jim Belfon- 504-579-4346
See on www.gofundme.com