See on Scoop.it – Pan African Black on Black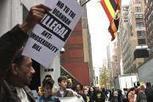 Kampala — In the face of rising public criticism over a range of controversial political manoeuvres, the Ugandan government has become increasingly hostile to the work of non-governmental organisations, particularly those advocating for the rights of the lesbian, gay, bisexual and transgender community, according to a new report from Human Rights Watch.
The report, released on Aug. 21, said that intimidation and obstructionist tactics have, over the last year, been used against NGOs working across a range of issues.
The report, "Curtailing Criticism: Intimidation and Obstruction of Civil Society in Uganda", draws on interviews with 41 NGO officials, government representatives and donors in Kampala. HRW found that some civil society groups have started self-censoring in order to protect their staff, reflecting wider concerns that criticism of the government can be increasingly dangerous.
"The attacks on freedom of expression appear to coincide with increasing criticism of the ruling party's governance," Maria Burnett, a senior researcher for HRW's Africa division and the author of the report, told IPS.
See on allafrica.com